Stan Savin, Head of Partnerships: Partner with others!
When considering which events we visit and we participate actively, rather than just popping by for a chat with customers and partners, we always think of cooperation options. While some might consider that sharing a booth with someone "steals the focus," it's not the case. Also, there are quite a few benefits:
You get to strengthen the relationship with your partner's sales team. Covering for each other on WC breaks, eating lunch and dinner, helping carry the equipment… All these small human interactions play a much more significant role than another Zoom call to discuss the sales pipeline.
You have an informal environment to talk about everyone's needs and views. You can strategize on the go and generate ideas for new approaches and initiatives. Also, you can be plain honest with each other about issues if there are any.
You physically display your partnership in action. This is great for external and internal publicity, as it shows that things are real.
If you are doing an event in a country in which your home language is not the one you are fluent, a partner can help you save some conversations (and leads).
Showing customers that you have a local partnership also signals that you are serious about their market.
Last but not least is the cost factor. There are surprisingly many costs, which can be split, making trade shows even more economically efficient.
Nina Sharabati, Office Manager: Planning is everything!
Events are a little weird because they are so easy to "forget about" and then start planning everything last minute in crisis mode. We have adopted a multi-stage strategy for handling all our events and trade shows to combat this issue. My job is to manage the logistics and keep an eye on the business team's ambitions, especially if there is a sudden unplanned event.

Stage 1: Go/NoGo.
This is something that takes place at the end of each financial year. The sales and marketing create an event calendar based on business priorities for the next 12 months. Everyone is encouraged to research, and we populate a large table with potential events. Then we make a shortlist and a rough budget to be approved.

Stage 2: Planning.
Each event gets a designated project manager. Sometimes it's someone from the sales team, and sometimes – someone from delivery. The project manager is then responsible for creating a clear plan for the event, including needed materials, promotional items, and potential travel dates.

Stage 3: Procurement.
This is one of the most significant changes compared to how we did things 2-3 years ago. You have to book your plane and other tickets well in advance. The price grows 3-5x fold if you wait until a couple of weeks before the event. The same is valid for hotels. Since our traveling team is typically 2-4 people, we save thousands each occasion. Visas can also be an issue depending on the country you go to, taking 2+ months to obtain.

Stage 4: Production.
Depending on the scale and type of the event, we typically create custom brochures, rollups, and digital materials. All of these need to be designed anew or repurposed by the marketing team, who is notoriously busy. Getting something prepared well in advance is a massive relief for the last weeks before the trip.

Stage 5: Last preparations.
A few weeks before the trade show, we review the project plan and check off last-minute items, including social media, missing pens, and, most importantly, plans for "what happens after."

Stage 6: Trade show and debrief.
Sometimes things need to be handled for the team on the ground, such as changes in materials, ordering certain supplies, and dinner reservations. But mostly, they are fully equipped and capable once there. Then, once back, within 1-2 days, we have a debrief session, where everyone involved with the event is encouraged to share any feedback: good or bad. We use it than to improve the following events.

So, with some planning, you can turn trade shows from a massive headache into a simple project management exercise with excellent sales potential.
Nick Voit, Industrial designer: Substance over the size!
Trade shows are always a little bittersweet for me. As a designer, I want to create outstanding visuals and cool booths. But, depending on the priorities and budget, this may not always be possible, and I fully support taking a more thoughtful approach to how much you spend on building up your booth. When we work on the visual aspects of our presence at a trade show, there are several agendas we look at. These can be mixed and matched.

What is the appropriate image? The devil is in the details, but it's essential to, on the one hand, stand out from the crowd, on the other to avoid becoming a red flag in the eyes of people. This goes for clothing, materials, and actual booth design.

Min/Max ratio. When we do a substantial international trade show, we expect a booth not overshadowed by competitors/other exponents. It doesn't make sense to pay a considerable sum to be at a trade show with a booth and then spend a couple hundred dollars on decorating. It looks cheap. The same applies in reverse – splashing on a huge booth looks wasteful if you visit a small regional event, as sometimes less is more.

What is the bare minimum? In many cases, it makes a lot of sense to go with a minimal setup. The one which works for us is two different rollups, a TV running one of our videos or presentations on repeat, a table with the "trade show" drone, and brochures/business cards. This all fits nicely into 12 square meters or even 9.
Vlad Jelov, Customer engagement manager: Talk their language!
A lot of our trade show success comes from communication. Before, during and after the event, the team is encouraged to share materials, photos and videos. While it may sound silly, these "spontaneous" communications still have to be planned. During the early planning stage, we discuss which angles/themes we want to touch, and people, who go to the event, mark it as a task. We even prepare some of the texts in advance to ensure that making an insightful or funny post is a matter of minutes.

We have been encountering an interesting issue lately related to languages. In many countries we visit, people are more inclined to talk and read about products and services in the local language. It doesn't mean English is obsolete, but local languages are rising.

This creates an extra balancing act: to figure out which materials you want to localize and which – to keep in English. We are still experimenting with this, but it seems like localized brochures (digital) and one of the banners could be in the local language. This creates a logical opportunity to ask for a potential customer's email, send them the brochure in their language, and make bringing people in for a chat easier.

Another thing that stood out was the cultural difference. In France and Spain, you are almost expected to bring some wine and snacks to "break bread" with people. While in Northern Europe, this might be seen as inappropriate or even illegal. However, gamification/raffles are much more common. Picking up on these subtle tendencies will make your trade show investment much more effective.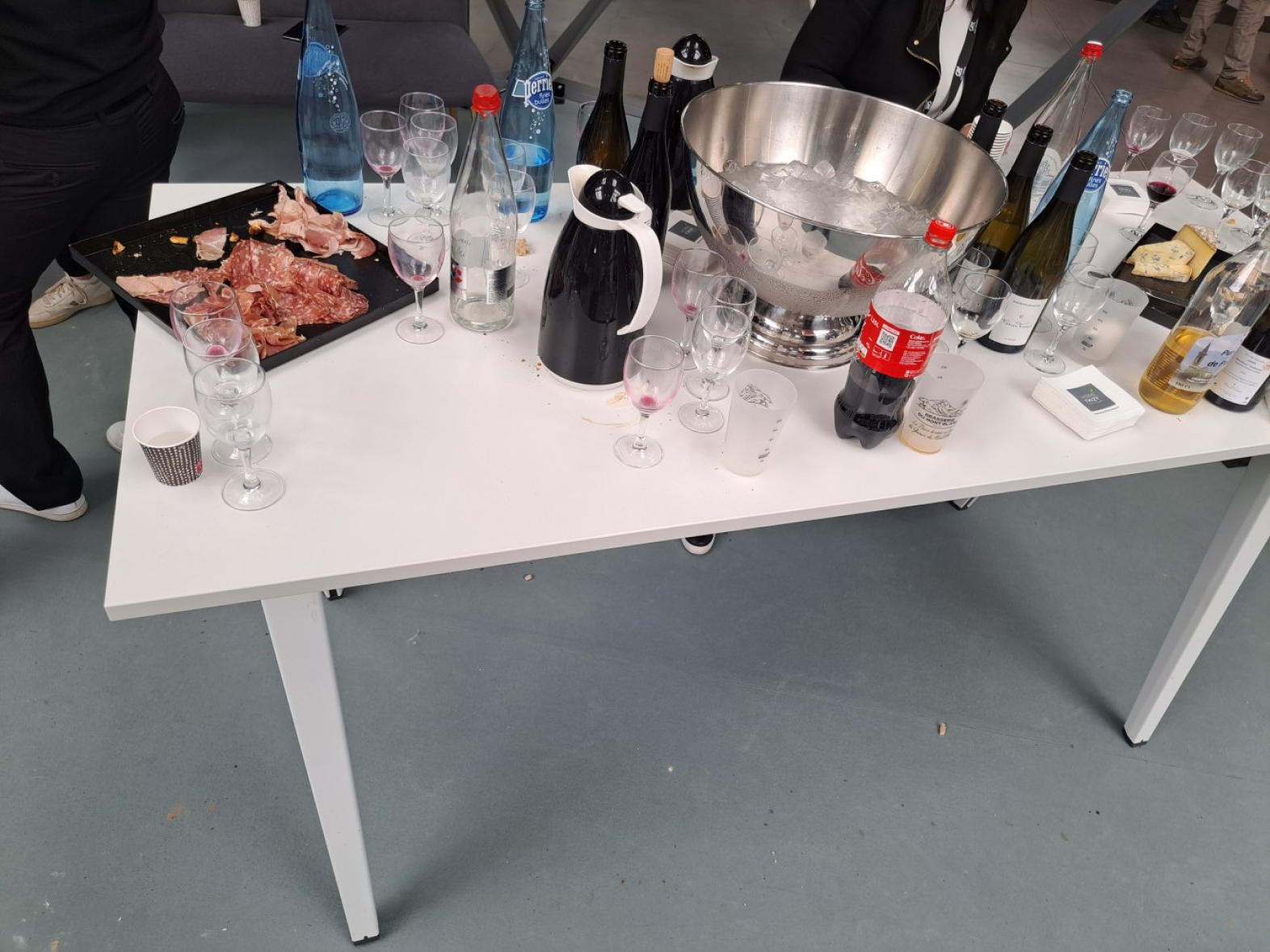 Miguel Roig, Chief Operating Officer: Pack for the occasion!
One of my main concerns for the trade shows is our drones. Which one do we bring along? This issue is relevant to most companies that have the hardware to show. There are, in effect, three setups we go for:

Light: For minor trade shows, the team takes our "trade show model" This is one of the prototypes for the next version of the Fortis drone. However, there are no electronics or batteries inside. It is still formidable, measuring almost 1m x 1m and genuine carbon fiber rotors and a body. It attracts plenty of attention, and people are happy to photograph it. It is light, can clear airport security, and takes about 30 minutes to assemble.

Medium: We typically bring either our drone-in-a-box (Ortus Dock) or the heavy geophysical drone Fortis for mid-size events. Both may need special shipping and customs clearance before even being allowed into the country; preparing them for shipping takes three months in advance. Sometimes, a delivery engineer travels with the sales team to ensure everything works as intended. This is a much stronger image, as the visitors love looking into the UTM and seeing the lid of the Ortus Dock open as the rotors spin up.

Heavy: This is our full-on setup, which we use once or twice yearly for comprehensive technology or drone conferences, such as GITEX GLOBAL Largest Tech & Startup Show in the World or World Police Summit. We have our entire portfolio on the stand and anywhere between 5-10 people involved in preparing everything and supporting the sales team.

Fortunately, the software part is easy: Microavia UTM works worldwide, so the team needs to ensure they have an excellent roaming Internet connection (local WiFi is notoriously bad on trade shows). They can then demonstrate how to fly a drone thousands of kilometers away.
In summary

All in all, trade shows are still very much a useful channel for channeling your message and engaging with your audience. For us, this is an amazing way to talk to hundreds of people about the usage of UAVs in different scenarios. We know that our drone-in-a-box, heavy drones and software work but getting more ideas and customers following each trade show is well worth the money.